Venue
Suleman Dawood School of Business, Lahore University of Management Sciences (LUMS)
LUMS has a beautiful award-winning landscaped campus, spread over 100 acres, with world class facilities. The university provides a single site for teaching, administration and recreation in an incredible atmosphere with superb convenience and safety for all. The campus is equipped with all modern facilities and has been carefully planned to create an environment conducive to learning.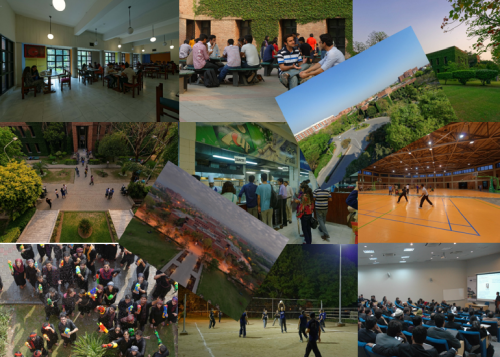 Facilities
State-of-the-art library

Spacious dining hall

Large and fully equipped gymnasiums

Walking track

24-hours security

Several on-campus restaurants

Souvenir shop

On-campus store

ATM and bank booth

On-campus medical services

Sports facilities (basketball, badminton, squash, football, table tennis, volleyball, cricket and more)
The University premises are located in Defense Housing Authority (DHA), which is one of the safest and newest suburbs of Lahore. Close to the airport as well as to the centre of the historical part of the city, DHA offers a wide range of services, shops, restaurants, and cafes.
About Lahore
The timeless city of Lahore is the second largest city of Pakistan and is known as Pakistan's education capital. Lahore hosts Pakistan's most reputable and oldest universities, nurturing a huge volume of students, scholars and researchers. Knowledge and its quest is evident in Lahore's ancient and vibrant history. As long ago as the Ghaznavid Empire in 1021, Lahore was acclaimed as a cultural, academic centre and city of learning. Punjab, the mother province of Lahore, is renowned to give birth to contemporary geniuses like Allama Iqbal (Urdu and Persian Poet & Philosopher), Dr. Abdus Salam (Physicist & Nobel Laureate) and Faiz Ahmed Faiz (Urdu Poet & Intellectual).
Enriched with a colorful and diverse cultural heritage, Lahore is also known as the cultural heart of Pakistan. Therefore, Lahore harbours many Churches, Hindu and Jain Temples, Mosques, Shrines, Sikh Gurudwaras and other impressive architectural glories with Tomb of Allama Iqbal, Shalimar Gardens, and Minar-e- Pakistan among others.
Accommodation
On-campus accommodation: available at the Rausing Executive Development Centre (REDC).
Off-Campus accommodation: Please see below the options for local hotels.
| | | |
| --- | --- | --- |
| HOTELS | DISTANCE FROM LUMS | CONTACT NUMBER FRONT DESK |
| Park Plaza Gulberg | 8km | 042-111-111-124 |
| PC The Mall | 15km | 0423-6360210 |
| Marvel Hotel DHA | 4km | 0423-35899310-18 |
| Sunfort liberty | 10km | 0423-5763810-19 |
Note: *Rates may vary at the time of booking.