Monday, September 25, 2017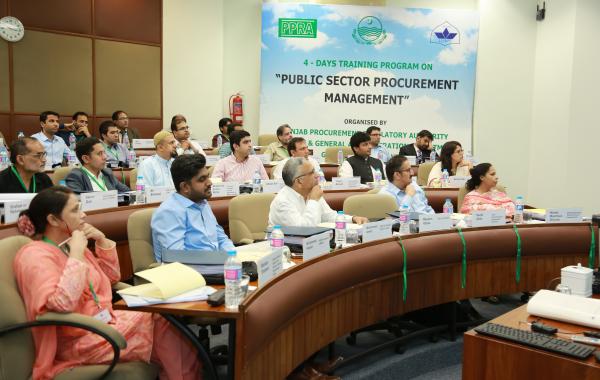 In a highly collaborative and supportive environment, LUMS intervention for Public Procurement Regulatory Authority (PPRA) took place at Rausing Executive Development Centre (REDC) from September 13-16, 2017. The programme focused on procurement planning and management in the public sector.
The initiative has been led by faculty team comprising of Dr. Zehra Waheed, Dr. Shakeel Sadiq Jajja and Dr. Jamshed Hassan Khan. Interactive simulations, exercises and local case studies were included to ensure fruitful exchange of views amongst the executives.
This learning partnership, between the Government or Punjab and LUMS, spanned over two years, has led to a productive and highly beneficial exchange of knowledge between the LUMS faculty and the public sector executives who have attended the programmes in the past two years.
More than 150 public sector executives from different departments such as Planning and Development, Irrigation, the Urban Unit, Lahore Transport Company, Livestock and Dairy Development, PPRA and PRMP, among many others, have attended these customised programmes so far. This created a unique learning opportunity whereby LUMS faculty team developed expertise in this area and an interactive platform for exchange of knowledge and views on the subject area and its wide application in varied undergoing projects.
The programmes have been very well received by participants with key appreciation for the interactive learning pedagogy, teaching expertise, in-depth knowledge of the faculty team and high quality of programme management and centre support throughout the two years.
"Excellent environment, excellent teaching methodology, excellent staff attitude. Thank you LUMS for providing an excellent learning experience," said Naveed Rafaqat Ahmed, CFO PMBMC, Industries, Commerce and Investment Department, GOPb.
"An overall comprehensive effort by PPRA and LUMS to ensure enhanced understanding of PPRA rules," added participant Bilal Naeem, PITB.