Tuesday, November 28, 2017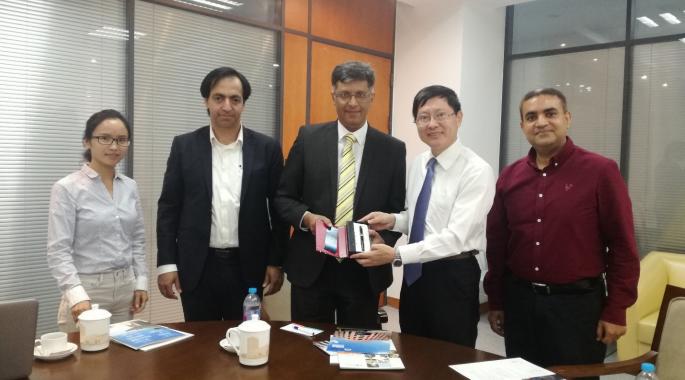 Dr. Jawad Syed, The dean of Suleman Dawood School of Business and Dr. Omair Haroon visited Shanghai Jiao Tong University on September 22, 2017 for meeting with their representatives. The meeting was held at Antai College of Economics and Management's (ACEM) of Shanghai Jiao Tong University. : Professor Guohua Wan, Associate Dean Research at ACEM, Tracy Lin from International office of ACEM, Ms Ningning Sun from Executive Education Center, ACEM were present at the meeting.
Professor Gonghua introduced his school, its brief history and achievements. The college traces its history from School of Management established in 1931. The school offers undergraduate degrees in management and economics. The school also has an academic masters degree programs in Management sciences, business administration and applied economics. The school also has a PhD program with a normal duration of 4 years for students with a masters degree. The school also offers an iMBA in English language and also an MBA offered in Chinese language.
Dr. Jawad Syed introduced LUMS/SDSB to the attendees. He also described research, teaching and executive training collaboration opportunities offered by the launch of China-Pakistan Economic Corridor. He also requested that faculty members and PhD students at ACEM are encouraged to attend and present papers at AMRC conference to be held in March 2018. More communication is needed between faculty members so as to find common interest of research.
The participants felt that in order to facilitate collaborative research, faculty exchange between the schools would be the best way forward. Exchange of professors between the schools were discussed. Dr. Gonghua expressed his interest in accepting exchange students from SDSB but also described difficulties in persuading Chinese students to visit countries other than USA, UK and Australia.
Ms Ningning Sun (Executive Education Center) described a short-term executive training program, "Doing business in China" which is designed for people wishing to work and establish businesses in China. The school is also planning to design new programmes around the themes of doing business in countries around Silk road countries. Dr. Omair Haroon expressed interest in running EMBA globalization module in Shanghai in cooperation with SJTU, exposing participants to Chinese culture, business practices and entrepreneurship prospects. SJTU has been running similar programmes for other overseas universities.