Wednesday, February 28, 2018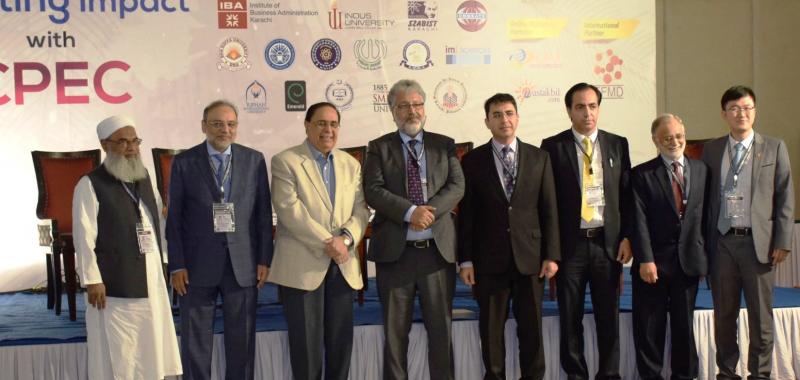 Dr. Omair Haroon, Director of CPMI recently moderated a panel discussion titled "Leveraging Karachi for CPEC" during the 5th Deans and Directors conference held in Karachi by National Business Education Accreditation Council held on 5 and 6 February 2018. The theme of the conference was "Business Education: Creating Impact with CPEC". The conference was well attended and well received by various stakeholders and academics.
The panelists for the session moderated by Dr. Omair Haroon included Dr. Nadeem Javaid, Chief Economist, Ministry of Planning, Development & Reform, Dr. Ijaz Shafi Gillani, Chairman, Gallup Pakistan and Mr. Yang Haitao, Vice Consul, Consulate General People Republic of China. The panel held impactful discussion on how an urban metropolis like Karachi can benefit from CPEC related projects and initiatives. The panelists discussed opportunities and challenges faced by Karachi in the context of CPEC. The discussion ended with a Q&A session with the participants of the conference.
The conference was designed to increase the effectiveness of business education in Pakistan, especially with the backdrop of emerging issues, concerns and opportunities offered by CPEC. The conference brought together more than 100 deans and directors of national and international business schools to engage in strategic level discussions. The conference aimed at actualizing its anticipated outcomes that include developing policy and process recommendations for aligning business education with local and global needs; identifying actions to meet the emerging challenges in business education to make it more relevant for Pakistan; and, recommending policy framework and actions for quality improvements in different areas of business education.